I have been hard on Jay Cutler. Mostly because I don't like him. As a quarterback. I've never met the dude. But knowing that he prefers stupid women tells me a lot about him. He doesn't like being the dumbest guy in the room. That's a bit of a problem for him in most rooms.
Also, we already know that he's wildly inconsistent. He has good games, bad games and some games where he isn't a factor either way. That's not an elite QB, that's some dude who happens to be in a uniform.
But he's ours and we have to live with him.
Kind of like that gaseous cousin who keeps coming by for holiday parties.
I know Cutler has his fans. Given the internet any idiot can have fans. Hell, I have fans for fuck's sake. That doesn't make me an elite QB.
And I also know that his fans rend to write in all caps and wish me Ebola. They are lovely people. If I may use that word.
Still, the Bears are suiting up today against the Fish so let's let Adam L. Jahns tell us all we need to know.
A fantasy owner's dream game by New England Patriots running back Shane Vereen on Thursday night — 114 total yards and two touchdown receptions, including a diving 49-yarder, against the New York Jets — warranted at least a phone call.

But brothers will be brothers.

''Ahhhh, he's overrated,'' Bears rookie free safety Brock Vereen said. ''No, I couldn't be happier for him. We'll worry about him in a week or so, but I hope it doesn't happen next week.''

The Miami Dolphins are more than enough to worry about this Sunday for the younger Vereen, a fourth-round pick.

This is a milestone week for him. He got all first-team repetitions in practice at Halas Hall and will make his first career start in place of injured starter Chris Conte.

Vereen tried to sell Sunday as business as usual, but first starts are hardly that, and he knows it.

''Sure, yeah, there's no need to lie about that,'' Vereen said. ''But at the same time, it's about staying focused and being confident.''

Vereen built that confidence by being the ultimate fill-in player in the secondary. He has played a vital role in the Bears' three wins, sliding in for the injured and excelling at nickel back against the San Francisco 49ers and free safety against the Jets and Atlanta Falcons.

His performances against the Jets and 49ers were particularly noteworthy, considering both teams were throwing often to rally from deficits.

''He stepped in at some critical moments earlier in the season,'' strong safety Ryan Mundy said. ''That's kind of a window into the type of guy that he is and the type of player that he can be.''

The starting job might go back to Conte when he's healthy, but Vereen has a chance to raise the Bears' faith in him, which started on Day 3 of the draft, when they traded up to select him. They believe he can be more than just the sound special-teams player he has been.

''He's a very mature young man to start off with,'' Mundy said.

A sign of that would be how Vereen handled earning an extensive look with the starters at organized team activities before falling behind Conte and Danny McCray on the depth chart. Vereen believes he grew from the experience.

''At the pro level, the first thing you learn is that it's far more than your physical tools,'' he said. ''I think I'm a better player for that. Where I am now is a much more confident, comfortable player.''

The Dolphins aren't the prolific Denver Broncos, but it's likely they will attack Vereen and test him every down. Vereen might not have the size or the same abilities as Mundy or Conte, but his ''football intelligence,'' as coach Marc Trestman is known to say, helps.

What does Vereen see in the Dolphins?

''Speed. Speed. Speed,'' he said. ''Any position you look at, they've got speed.''

If all goes well, Vereen might remain the starter against his brother, Shane, next week on the road against the Patriots.

And if Conte returns from his sprained shoulder, Vereen promises to be ready.

He already has proved he can be.

''Even if you aren't practicing with the first team throughout the week, mentally, you have to be,'' Vereen said. ''When you go home, you still have to prepare as if you're going to start because, like we've seen three times this year, anything can happen on the field.''

COACH'S CORNER

Looking at the Dolphins' defense with Bears offensive coordinator Aaron Kromer

• ''Their run and pass defense is very good. They're in the top 10 in both areas. As an overall defense, they're very physical. They hit the quarterback in every game a bunch of times, and that's the No. 1 goal in this game is to limit the hits on our quarterback.

• ''You look at Tom Brady, you look at Aaron Rodgers, they were hit multiple times in the game. That's our No. 1 goal coming out of this game is to keep Jay [Cutler] safe and to keep him in a pocket where he can complete a pass.''

• ''They do a good job of making five-on-five pass-rush situations. They don't let you double anybody because a lot of times they're blitzing and keeping everybody one-on-one and doing that with stunts. They're violent. They're good pass rushers in general. As an individual, they're good. Then you add the element of everybody [having] one defender to block with no help, no slide, no help either way, it's hard to hold a block that long.''

• ''Sometimes you're better off getting everybody out and getting the ball off quicker and then situationally using a max protection to secure more than one-on-one in situations. It's the timing of the play. It goes back to what I always say: Everybody is involved in a pass protection. A wide receiver who gets open quickly is going to help our pass protection. A quarterback who makes his read quickly is going to help pass protection. And obviously the protectors are going to do it.''

UNSUNG SPOTLIGHT

Stephen Paea, DT, No. 92

The Bears' defensive line has spurred the resurgence of the entire defense, and Paea has been a consistent clog.

In a contract year, he's having his best season, which already includes a career-best four sacks. And he has been helped by other circumstances. Defensive coordinator Mel Tucker's scheme changes fit Paea. The arrivals of defensive line coach Paul Pasqualoni and skills-development coach Joe Kim have made a difference. Plus, Paea has stayed healthy after injuries derailed his first three seasons.

He said he's striving to be an ''overall effective [defensive] tackle in this league.''

''This year, I'm comfortable in my pass rush,'' Paea said. ''This league is different now. Even though I'm a nose tackle, I've got to be able to show them I can pass rush.''

WATCH LIST

Five players to watch on the Bears and Dolphins

BEARS

QB JAY CUTLER: ''Our wins and losses come down to us protecting the ball offensively — not fumbling, not turning it over, and we win. That's the formula.''— offensive coordinator Aaron Kromer

RB MATT FORTE: ''Like I always say, I'm like the fine wine. Get better with age.''

LT JERMON BUSHROD: ''Jermon has played at Pro Bowl levels in the past and is a very good left tackle. To have him back, it's definitely a boost.'' — Kromer

LB SHEA McCLELLIN: ''Can he pick up where he left off, build on that and continue to improve? That remains to be seen, but that will be our biggest challenge as he returns.'' — linebackers coach Reggie Herring

LB JON BOSTIC: ''We'll have to see where he's at [with his back injury] and how [defensive coordinator] Mel [Tucker] feels mentally that he's ready to play.'' — coach Marc Trestman

DOLPHINS

QB RYAN TANNEHILL: ''Their quarterback is a factor running the ball. It's a read-zone week for us and that type of thing.'' — Tucker

RB LAMAR MILLER: ''He's got tremendous speed and vision, and he can get to full speed in about a step-and-a-half. If you give him room, it's going to be a long day.'' — Tucker

DE CAMERON WAKE: ''Cameron Wake is a Pro Bowler and a guy we have to get some chips on and help our tackles out with that.'' — Forte

CB BRENT GRIMES: ''Grimes is a technician. He's super-duper focused. I don't understand how this guy wasn't drafted. I don't understand how the Falcons let him go.'' — Bears receiver Brandon Marshall

KR JARVIS LANDRY: ''Landry is going to be a chore to cover because he's an explosive player and they've got the best return team in the league.'' — Trestman
Our very own Big Star has already started a thread so CLICK HERE to join the fun!
Follow us on Twitter!
Tweet
Visit us on Rebel Mouse


Email BigBadBill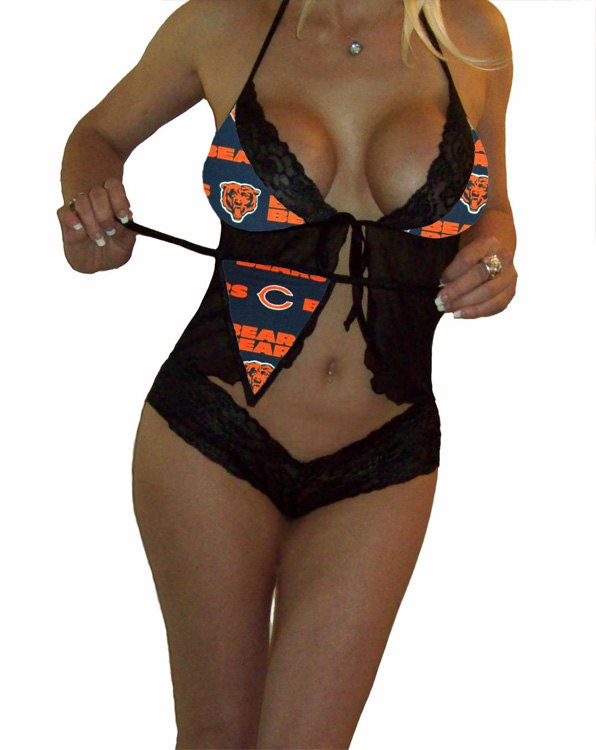 I Am Curious Yellow is a 1969 attempt at erotica that I had the misfortune of seeing. And because stupid people will pay to see boobs the film made millions of dollars and spawned a sequel, I Am Curious Blue. I thought of those films today because I'm wondering why anyone with a pulse would pay hundreds of dollars to go see the Bears. This team, like bad porn, continues to tease and disappoint.
After four weeks of flaccid defense the team discovered a method to allow them to bring their turgid (team) members to the fore. And, sadly, it was all for naught as the offense and the special teams just laid down and said "THE HELL WITH THE LUBE! JUST DO IT!!!"
Because, folks, I hate to break this to you but the Panthers aren't good. They need to have a perfect game to attain mediocrity.
And yet they had their way with the Bears like a deleted scene from Caligula.
And the thing of it is that this team should be good. They should contend.
But, instead, we get week after week's worth of weak excuses. And they all center around the same guy.
As Rick Morrisey notes, Jay Cutler just isn't very good.
A lot of people are wasting a lot of time on X's and O's these days.

A media cottage industry has sprung up around the Bears, filled with game-tape junkies who break down how intricately designed plays are supposed to work, where the combatants should be on the field at any given moment and what techniques players should be using, down to the facial tic. The average news consumer might as well be trying to read Mandarin or interpret whale sounds.

None of the strategy stuff mattered when it really ­mattered Sunday.

The Bears' 31-24 loss to the Panthers came down to who made plays and who didn't when the game was on the line.

Jay Cutler didn't. He wasn't the only one, just the one we've seen starring in this role much too regularly.

Go ahead and analyze Sunday's debacle all you want, but this was about the ability to thrive in the clutch. When the Bears needed Cutler to deliver in the fourth quarter, he delivered to the Panthers.

The film critics probably will look at his overthrow to Santonio Holmes and see a footwork issue or a release-point problem or a play-calling mistake. I see a guy who can't come through when his team needs him to be great.

Trying to quantify nerve and pluck is like trying to quantify air. I might not be able to see it, but I know when it's not there.

I'm beyond expecting any different from Cutler. I'm not Charlie Brown thinking he'll finally be able to kick the football. I know what Cutler is, and yet I still find myself amazed at how consistently inconsistent he is. Or maybe I'm just impressed that someone can be so maddeningly mercurial on a regular basis. Even his most ardent supporters have to cringe when he has the ball in his hands with the game on the line.

He has loads of talent around him in Martellus Bennett, Alshon Jeffery, Brandon Marshall and Matt Forte, and it's still not enough. It will never be enough with this guy. Something always goes wrong. You can count on it like the four seasons.

In the fourth quarter, the Bears were 0-for-3 on third-down attempts, had 31 yards of total offense (thanks, in part, to three sacks) and fumbled twice. Forte fumbled on the series after Cutler's interception, so there's plenty of blame to go around for the loss. But over the years, one guy's name comes up over and over again in all the crime-scene investigations.

Some of you will wonder if Cutler's diabetes is an issue. I usually get a few emails from readers about this after he struggles. All I know is that no one brings it up when he's playing well. And he has steadfastly refused to use it as an excuse.

Over on the winning side, Panthers linebacker Luke Kuechly finished with 15 tackles, according to press-box statistics, and who knows what that number will be when his coaches finish looking at the game tape? He was everywhere. He is that rare combination of speed, intelligence and drive. He makes plays in big moments and in smaller ones. The Bears don't have anybody like that at any position.

The loss to the Panthers dropped the Bears to 2-3. They are in that muddle of middling teams with middling records that tease their fans with promises of good times ahead. But Chicago seems to finally be uniting in its weariness of Cutler. The city has seen the same thing from the ­quarterback too many times to buy it. To expect him at 31 to suddenly become a ­dynamic, efficient quarterback is the definition of insanity. You've expected it since 2009. It hasn't happened. If coach Marc Trestman's cerebral approach hasn't tamed the mistake-prone beast, it's safe to assume no one's ­approach will.

Trestman had a rough game as well. The Bears abandoned the vertical game in favor of short passes to Forte. When you have ­Jeffery and Marshall, you don't take what the defense gives you. You take what you want. The Bears went docile.

"We didn't score enough points to win,'' Trestman said. "I assume responsibility for that.''

I'd love to be able to read the coach's mind. He might think of Cutler exactly what he says about him at news conferences, that his quarterback is special. But I wonder if something else has elbowed its way in there: "Uh-oh.''
Given that series of safe dinks I'm beginning to wonder if Trestman has lost faith in Smokin' Jay. Going for safe, high percentage, passes when thrusting deep into opposing tundra was called for tells me that something's wrong. As Rick notes, with the talent they have they shouldn't take what they're given, they should take what they want.
By the way, that works for football, not dating. Please don't confuse the two.
CLICK HERE TO SATE YOUR CURIOSITY
Follow us on Twitter!
Tweet
Visit us on Rebel Mouse


Email BigBadBill
I have been putting in 70 to 80 hour weeks and, as such, have been a bad Jay the Joker. My apologies. I am told that this will, sooner rather than later, benefit me. Clearly I believe this to be true or I wouldn't be doing it. Still, it really cuts in on my play time.
A quick, funny, story before we begin. I know this young lady who sees me a couple of time a month at a local watering hole. Recently she decided, at no urging from me, to "blow this Popsicle stand" and go to her place. Since I was pretty sure she didn't just want to play Chutes and Ladders, I said yes. The next morning she rolled over and said "You know, for a 40 something dude, you have a lot of energy." I pointed out that I'm 53 and have never heard from, or seen, her again.
Such is my life.
Okay, back to sports.
DA BEARS! Here's what we know 1/4 into the season. They have no depth. If they lose a starter they're fucked. We also know that Jay Cutler is who we thought he was and no one is impressed. That said, in this parity driven NFL, that doesn't preclude this team from winning more games than they lose and contending for the Super Bowl. You just have to live with the fact that this team is not going to be great. Now all you have to do is hope that good is good enough.
DA HAWKS! Depth is not an issue here. They have an entire minor league that could be a contending team in the NHL. Given the rigors of the schedule and the violence of the game I think it will be a long time before we see back to back Cup winners. That said, I see no reason that this team can't win every other year. I, like many others, have no idea why the signed Car Bomb again. But I, like many others, have questioned some of their roster moves before only to see them work out very well. Or, in the case of dudes I didn't want to see traded, had it proven to me why they're gone. Also, if you get the chance, catch the Halcones Negros de Chicago en Epspanol on the radio. It's not a regular thing but when they do it those dudes are amped.
Dangerously so.
DA FIRE! Still hate their fans, still can't win and still won't get any pub here.
DA SKY!! Well, they gave it a hell of a ride this year and look poised to do so again. I'm glad for them. I've wanted to support them for a while but they kept shooting themselves in the foot. Now they seem to have shrugged off their fear of success and are set to be another Chicago team worth cheering. Also, another team with some real depth. Their #6 could easily be a #1 on other teams. Hell, so could their #'s 8 or 9. Even if your knowledge of women playing basketball is limited to the LBL this is still a team worth supporting.
DA BULLS! Derrick Rose is back. So far his knees look good and his shot looks like shit. He couldn't hit the broadside of a barn with a cannon at 20 paces. Oddly enough, I'm not really sure that matters. This team has been built around Joakim Noah with Rose being looked at as a luxury. When I mentioned that was a good path to follow a year and a half ago I received death threats. And I took them seriously enough to ignore. Still, what else could the Bulls do? Rose is a risk and Noah isn't. Who the hell thought that would be true a couple of years ago? That said, what we want and what we get, see my story above, aren't always the same. The Bulls seem to be doing a good job of living in the the real world. And now that the Heat are a joke, this could be an interesting season.
DA CUBS! This team leaves me with mixed emotions. The only way I can deal with them is to separate the ownership from the rest. The owners are self absorbed idiots. They stroll that fine line between clueless fools and money grubbing tea baggers. That's a tough line to find when one of the owners is a progressive lesbian, but there you have it. It's like they went out of their way to get where they're at. So, thanks to this fact, the fate of the team is ow in the hands of a federal judge. Won't it be fun if he issues a work stoppage order now that the walls have been torn down? Yeah, I think so too. The team on the field, however, is interesting. They need 4 pitchers, 2 starters and 2 in the pen, and they need one vet to tutor the kids. The rest is already here or coming by June. A team built exclusively on free swinging, defensively challenged, misfits could do some damage during the season. Oh, they'll get killed in the post season, if they make it, when defense is key. But a team full of Dave Kingmans could be fun to watch.
DA SOX! Depth is an issue for them too. Butt not as much as it was 3 years ago. Hahn has done a good job of shoring things up on the fly. They still need a right handed starter and a left handed bat to sit between Abreu & Garcia, but that's about it. Flowers is going to be their catcher for a while since they value defense so heavily. That doesn't mean they won't get a veteran back up, but he's their guy and that's the end of that discussion. Every pitcher they have loves this guy and that counts for something. Believe it or not. As to John Danks, I think you need to shorten your view to the end of the season. That's when he made the adjustment that Cooper had been begging him to do. The result was a plummeting ERA and a lot more innings pitched. If, and that's a BIG IF, he can keep that up for a season then this team will be a lot more deadly. Now that they've shed all of their egregious contracts (THANKS K-DUB!) they should have the financial freedom to build the team Hahn wants. Given his oft stated desire for a team with a high battering average and great defense, that happens to be the team I want as well.
What a coinky-dink.
Follow us on Twitter!
Tweet
Visit us on Rebel Mouse


Email BigBadBill
On November 11, 1998 the White Sox traded away a guy named Mike Cameron to the Reds to get Paul Konerko, then a 22 year old first baseman who showed some pop if not any speed. The move was viewed by many as a salary dump by a losing team. Cameron would go on to have a good career becoming one of a rare group to win Gold Gloves in both leagues.
But this isn't about him. You knew that didn't you?
Anyway, in his first full season with any team Konerko hit .298 with 24 homers and endeared himself to fans. His laid back, thoughtful, demeanor was the anti-Sosa and South Siders were well pleased to call him one of their own.
In 2000 he joined a rag tag group of misfits fleeing the Cylon tyranny ... no, wait .... he was joined by a bunch of kids who should have stayed in 3A. But no one told them so they went and won the division.
That was the first year I started going to see baseball again. I had been disgusted by the obvious roiders and the attention being paid to homers at the expense of the game. The Sox' slogan that year was The Kids Can Play and boy could they ever. A more agile Konerko would scoop anything that came near him. He became an integral part of the infield and the face of the franchise.
As time marched on he would win a World Series ring here, take less money to stay here and was, and is, the one person parents would consistently point out to their kids as a role model. His home may be in Arizona but his heart is in this city. He was one of the reasons, the other being Frank Thomas, that Abreu turned down Yankee money to come here. And if that sentence doesn't tell you all you need to know about both men you haven't been paying attention.
So yesterday the Sox held Paul Konerko Day. They wanted to honor his 16 years here as a player, mentor and fan favorite. And, boy did they ever get this right.
Our old pal, well, he's not as old as me but you know what I mean, Scott Merkin shares the joy.
All Paul Konerko wanted to do was play baseball.

That fact rang true during the 16 years the captain was a fixture with the White Sox on the South Side of Chicago. It certainly was the case Saturday night at U.S Cellular Field, just two games from the end of the 2014 regular season.

But on Paul Konerko Day, the six-time All-Star who never sought out the individual attention had to sit through an exceptional 41-minute program to honor his remarkable career coming to a close with Sunday's last pitch.

Ken "Hawk" Harrelson, the White Sox television play-by-play voice, emceed the ceremony and opened by talking about celebrating one of the most productive and popular players to ever put on a White Sox uniform. By the time the program was done, Konerko watched video tributes ranging from Mark Buehrle to Derrick Rose to Jonathan Toews and closed out with an eight-minute speech that was true to form for the class and character he has exemplified as the leader of this team.

"This is way more than you ever dream could happen when you pick up a bat," said Konerko, during the opening remarks of his speech. "You're 6 years old and you find yourself here 32 years later with all this going on.

"It's not something that you think is going to happen. I'm guessing it's too late to ask for a day off, Robin, because I don't know if I'm going to be able to get out there tonight. I'll do my best. I'll get out there."

The highlight of the program came when White Sox chairman Jerry Reinsdorf stepped to the dais. He spoke of the great moment the two shared after the '05 World Series championship and then showed a video of Konerko presenting him the baseball from the final out of the title during the ensuing victory parade.

Reinsdorf joked that Konerko should have never given him the ball because Konerko was the one who did the work to get the team to the ultimate plateau.

"Having said that, I'm not giving it back," said Reinsdorf.

Instead the White Sox tracked down the fan who caught Konerko's Game 2 grand slam from the '05 World Series. Chris Claeys presented the baseball to Konerko at home plate.

"As it was going on, I was thinking, 'OK, is Jerry going to give me the ball back, the one I gave him? Where is this going?'" said Konerko after the 5-4 victory over the Royals. "And then he actually said no, it's not that, so then I'm like, 'Where is he going with this?'

"Up until the moment he said what was happening I had no idea that that was happening. And it's cool because now that puts that to come back home to me and have it, that was a big moment for me, a big moment for the team."

That emotional moment was followed by Reinsdorf pointing to a bunch of balloons anchored on the left -field concourse. The balloons were released upon Reinsdorf's order, showing a statue of Konerko with his fist raised in the air commemorating that World Series grand slam. Konerko's No. 14 will be retired during a ceremony in 2015.

Former teammates Sean Lowe, Chris Getz, Greg Norton, Jim Thome, Brian Anderson, Ross Gload and Cliff Politte were in attendance, with video tributes from Ozzie Guillen, Scott Podsednik, Joe Crede, Gordon Beckham, A.J. Pierzynski, Juan Uribe, Joe Crede, Jermaine Dye and Derek Jeter. The tributes opened with James Hetfield, the lead singer from Metallica, thanking Konerko for previously using their music as his walk-up anthem.

"James Hetfield from Metallica said my name. It's crazy," Konerko said. "Just because you can hit a ball with a bat. It's pretty cool. I'm blown away by it."

There was an oil painting presented to Konerko depicting his swing and white and black baseballs forming the No. 14, all signed by his teammates from '05. There also was a bench made of baseball bats and balls saluting the captain. Konerko, a music enthusiast, received a 1976 Gibson guitar and a mint condition 1963 Fender Stratocaster.

At the time Konerko spoke, he congratulated the Royals first for reaching the playoffs and taking the time to watch the ceremony with the American League Central title still on the line. He thanked friends, family members, teammates, coaches and other important people from the organization, and the fans, whom he referred to as "friends."

"When you look at that statue out there, or you look at that number that's going to go right there, just realize that when you look at that when I'm not there and you're at these games, your fingerprints are all over it," said Konerko. "It wouldn't be there without you guys, so thank you."

By the time the third or fourth standing ovation erupted, Konerko stepped to the microphone and said. "Let's play some baseball here." It was a fitting end for the person and player.
How would you like to have been that dude in Houston answering the phone and hearing Jerry Reisndorf on the other end? I talked to a few people and they all said the same thing; once the staff found the guy Reinsdof took over. He paid the guy personally although no one seems to know how much that cost him. I would guess he would have called it a bargain at twice the price.
After all, how many Konerko's do you run into in a lifetime?
His stats make him a marginal candidate for the Hall of Fame. Of the twenty players most similar to him ten are in and ten are not. But the Hall has shown a propensity lately for actually considering character and that may give him an edge.
Oh, not that it matters, the Sox won 5-4 last night.
What does matter is that Jose Abreu, Konerko's heir apparent in many ways, hit his 36th homer of the year last night breaking Ron Kittle's rookie record. So, in honor of that, I'll let Jose end this blog.
"I'm very happy and grateful for the opportunity here and also extremely happy about everything that's happened for Paulie today. It's a special day for him and I want the attention on that. That's what I feel is the most important thing of today."
CORRECTION: The ball was owned by a Sox fan who just gave it to PK when he was asked. His name is Chris Claeys and all he asked for was an autograph.
CLICK HERE TO LAUD A CLASS ACT
Follow us on Twitter!
Tweet
Visit us on Rebel Mouse


Email BigBadBill
It's fall. That special time of year when a young man's fancy turns to large breasted women who buy him drinks. Or, if you're not me, then they turn to winter sports.
Last night the Bears, facing a "legitimate threat" (ESPN said so so it must be true), moved themselves into a tie for first place in their division and caused my pals Bill & Ruth to both win money off of strip cards. Since they both have had the stunning good fortune to be able to buy me a drink or two, it couldn't have happened to a nicer couple.
Now that I've seen three games I have a clearer idea of what they are attempting to do on special teams and defense. They aren't there yet but, if the offense can hold this team together for a couple more weeks, they might be worth seeing in the postseason.
But we'll deal with the Bears later. Now is the time to talk of legitimate champions. Those beckoning heralds of good will and actual hardware.
Fortunately for all involved there is someone smarter and better looking than me who took up that task. Our very own Roman F. takes a look at the Hawks.
With hockey season starting back up, I felt compelled to write-up the tenets of Hawks head coach Joel Quenneville, who is one of several reasons the Hawks are the favorite to win the Stanley Cup this season.

1. Play at full speed. When Quenneville was first hired, one area he said the Hawks could improve in was quickness. Shortly thereafter, players talked about the fast pace of his practices, "You play how you practice and you practice how you play," one 'Hawk was quoted as saying. Q believes in skating and making plays at full speed, with or without the puck, at both ends of the ice. If you don't follow that as a player, you can take a seat on the bench. Whenever you hear why Q benched a player like Brandon Saad during the season, or Kris Versteeg or (now ex-Hawk) Brandon Bollig during the playoffs, he almost always says, "He needs to play with more pace." This is what he means.

2 Defense first. Q favors guys who play defense and simply rids the team of guys who don't. I personally thought Rockford call-up Brandon Pirri was the best offensive player of the many players the Hawks tried last year at 2C, an offensive position. But Pirri didn't play much defense or win many board battles so Q had no place for him. Soon Pirri was traded from the team for next to nothing, despite clear offensive ability. A year earlier, Q would sometimes bench the lightning-fast 20-goal scorer Viktor Stahlberg due to defensive deficiencies and the team didn't try to re-sign him. The one exception was Patrick Kane, who was so exceptional on offense that Q had to live with Kane's disinterest in defense. Kane now plays a 200-foot game and I seriously wonder if he'd still be on the team if he didn't.

3. Strong stick on the puck. For all their speed and offensive wizardry, the Quenneville Hawks are about puck possession first and foremost, much like the Redwings team that dominated the '00s. When the Hawks are on their game, they always have the puck and the other team doesn't, reported to be maddingly frustrating for the opposition. The Hawks always get outhit—not because they don't like to hit, but because the team without the puck is always the one doing the hitting. While the other team is hitting, the Hawks are cycling the puck and scoring.

4. Have a great mustache. In our lifetimes, all winning Chicago coaches have had facial hair: Mike Ditka, Phil Jackson, Ozzie Guillen, and the Q-Stache.

The results? Two Stanley Cups in four years and four Conference Finals appearances in the six years. The most victories among any active coach. And an eventual place in the Hall of Fame.
So Roman just wrote off the Bears' season thanks to the fact that the coach is a hairless ape. Just in case you missed that.
Now for some trivia. The reason the Hawks don't get the vilification that the Redskins, Indians and Braves do is solely due to the fact that they are named for a dude, not a tribe. Specifically Chief Black Hawk whose visage is the basis of their logo. Although he had much cooler hair.
Something else of note, this site's founder and all around nice guy, Pat Dahl, is a head of PR for the Blackhawks. Just in case you wondered where all those cool ideas they have come from.
Lastly, apropos of nothing, my boss's dad, a retired cop, used to provide security for Rocky Wirtz.
There, now you can win free drinks on bar bets. Even if there aren't any large breasted women around to pay for them.
CLICK HERE TO COMMIT TO THE INDIAN
Follow us on Twitter!
Tweet
Visit us on Rebel Mouse


Email BigBadBill