Where to begin? How about this? Each week before the Bills play anyone they send them a little postcard which reads as follows;
Hi Opponent:
We're the Bills. Our QB is kinda sorta iffy so we're just going to run the ball. We hope this doesn't cause you any inconvenience.
Sincerely,
The Buffalo Bills
They're polite like that in Buffalo.
Still, knowing that, and everybody did, the Bears defense did their best Ginger Rogers impersonation by playing the game backwards and in heels. Add in the fact that Cutler did his best Rex Grossman impression and you had a recipe for disaster.
Rick Morrissey, over at the Sun Times, says not to worry ... the fix is in.
If there was a theme to the Bears' response to their season-opening loss Sunday, it was that they would have to watch game film to offer an educated explanation of what happened. Apparently, they'll get back to us on this.

I don't want to spoil the movie for them, but it involves a speeding truck, a typically erratic quarterback and, who knows, maybe some barbeque overindulgence.

The purported good news is that tight end Martellus Bennett said all the mistakes in the 23-20 overtime loss to the Bills were fixable, echoing coach Marc Trestman's declaration after the third preseason game that the team's problems were "correctable.''

But when are those mistakes going to be considered "unacceptable'' and "intolerable'' before they happen? You know, from the "get-go-able?''

You can take this to its painful end and call what happened ­Sunday un-Bear-able, but in reality, the loss was so very Bear-able.

Jay Cutler making a terrible decision, throwing a game-altering interception and then being snippy with the media afterward? Check.

The defense giving up 193 rushing yards, including a long run when it mattered most? Check.

No pressure on the opposing quarterback? Check.

The dawn of the 2014 season looked a lot like the downer of last season, a buzz kill for a fan base that has seen this show too often.

"Correctable'' was the word Trestman used after the Bears' first-team defense gave up 31 first-half points to the Seahawks a little more than two weeks ago. On Sunday, the Bears gave up almost 200 rushing yards, including a soul-sucking 38-yard run by Fred Jackson in overtime to set up Dan Carpenter's game-winning kick. On that run, Jackson threw around much-maligned safety Chris Conte like a bag of laundry. If the Bears have to watch the game film to ­figure what happened, then they have bigger problems than we thought. Hint: It involves bad linebacker play. Lance Briggs, the renowned smokehouse proprietor, had three tackles.

Correct me if I'm wrong, but I don't see a lot of progress going on. You can call it an overreaction to an 0-1 start, but when you see the same things over and over again, you have a tendency to want to gouge your eyes out. Things such as Cutler's second interception of the day, when he tried an ill-advised pass across his body that defensive tackle Kyle Williams picked off in the fourth quarter.

His habit of trying to make things happen is "part of what makes him special,'' Trestman said.

The line between "special'' and "reckless'' is the approximate width of a light-bulb filament.

"We'll clean it up,'' Cutler said, as if it were spilled milk or toys left out.

He threw for 349 yards and two touchdowns, with two interceptions thrown in for bad measure. That's how he rolls. After the game, he curtly said he expected the ­media to be "as negative as ­possible.'' That's how he rolls, too.

The Bears had enough ­challenges on their hands without self-induced mistakes and penalties. They were without wide receiver Alshon Jeffery (hamstring) for most of the second half, forcing Cutler to throw to Santonio Holmes, Josh Morgan and Micheal Spurlock too often. Add to that the second-half absences of center Roberto Garza and guard Matt Slauson with ankle injuries, and you can see why this game might have been a struggle.

But come on. A Bills team that went 6-10 last season? At Soldier Field, with spirits high?

Three turnovers, including a fumble by Brandon Marshall, didn't help matters. Nor did Bears defenders getting manhandled in the running game. Newcomer Jared Allen had one tackle and no sacks.

"It's a long season, just getting started,'' Bennett said.

In the hollowness of Sunday's loss, that sounded more like a threat than comforting words.

The Bills finished second in the NFL in rushing last season, and the good news for the Bears is that they're done with them. The bad news is that the next opponent is the 49ers, who were third in rushing last season. Is that negative thinking? Sorry, Jay.

The Bears were wretched against the run last season. Until they figure out how to stop it, they're going to have a long season — and not the good one Bennett envisions.

"[The Bills] ran the ball well, so you've got to give credit to them,'' Conte said. "But it's all stuff that we're going to work on and get fixed.''

Fixable?

So we hear. Often.
Here's a fix. What happened to putting 8 men in the box to stop the run? What happened to running sack stunts with the run in mind? What the hell happened to the defensive line that was allegedly so good?
By the way, watching Conte get shoved around in overtime was just sad.
As to Cutler, I saw it coming when I realized that the whole game was on him and the offense. That doesn't play well into the team's strengths and it showed.
I know I picked this team to go 11-5 this year, and that may still be possible, but if what we witnessed yesterday is any indication 5-11 might be optimistic.
Follow us on Twitter!
Tweet
Visit us on Rebel Mouse


Email BigBadBill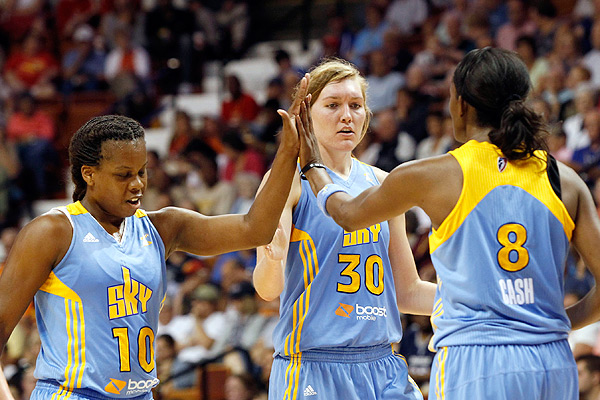 Okay, last year I said I would write about the Sky when they won a freaking playoff game. My frustration with the team was palpable. Year after year they had everything they needed to get into the playoffs and go deep. Instead, year after year, they were more disappointing than a celibate hooker.
This year, beset by injuries, they earned a free pass. No one expected them to do anything. So what did they do? They beat everyone. They didn't even have a full team until the last four or five games and it didn't matter.
Allie Quigley, this year's 6th Player of the Year in the WNBA, couldn't make the court in a pick up game in previous years. She'd been cut more often than Marilyn Manson.
And yet, here she is, double digit night after double digit night, willing her team to win.
And this team plays defense. They crowd the boards, hustle the court, harass anyone stupid enough to cross their paths and, in general, play some exciting, and more traditional, round ball.
And now they are playing for the whole enchilada. They head on down to America's second favorite open carry state, one that really loves minorities and women as long as they know their place and shut the fuck up, to face the stupidly named Phoenix Mercury.
I'm not sure if they're named after the god of speed or the car exclusively built for fat white people. Based on their logo it could go either way.
Amar Abdul Nasir, over at Dime Mag, tells us what we can expect from this impending match-up.
The most talented pure scorer in the league going up against the fiercely talented and sometimes controversial frontcourt force. Two of the sport's most marketable stars stepping onto the league's biggest stage for ownership of the game's most coveted prize.

No, this isn't 1993, when Michael Jordan's Chicago Bulls took on Charles Barkley's Phoenix Suns in what turned out to be an epic NBA Finals series.

This is the 2014 WNBA Finals, which pits Elena Delle Donne and the Chicago Sky against Brittney Griner and the Phoenix Mercury. Game 1 of the best-of-five series tips off this Sunday at 3:30 p.m. EST on ABC. But unlike '93, when Jordan was at the height of his powers and the Bulls were working on their first three-peat, Phoenix is the runaway favorite here.

The Mercury set a WNBA regular-season record for victories during this summer's 29-5 rampage, while the Sky made history of their own as the first WNBA team to make the playoffs with a losing record (15-19).
And if that was all you knew about these teams, then this would look like an NCAA Tournament 13-seed surviving and advancing all the way to the championship game, where their final hurdle happened to be a No. 1 seed loaded with lottery picks.

Except this isn't quite that.

Despite their record, Chicago is good. They're no Cinderella. They're actually among the league's elite when they're anywhere close to healthy. But the main reason the Sky fell below .500 this season was due to an unfortunate spate of injuries.

Delle Donne, the 6-5 wing who surprisingly beat out Griner for WNBA Rookie of the Year in 2013, missed more than half of this season due to complications of Lyme disease. Fortunately for the Sky, she has mostly looked like herself – i.e., the WNBA's answer to Kevin Durant – during Chicago's run to the Finals. Delle Donne scored 34 points in a first-round series-clinching win over Atlanta and is averaging 17.3 points per game in the postseason.

The Sky also struggled during the early-season absence of 6-6 center Sylvia Fowles. The two-time WNBA Defensive Player of the Year and two-time Olympic gold medalist missed 14 of Chicago's 34 games due to injuries. She quickly returned to form, however, and is averaging 17.2 points (63.3% FG), 10.5 rebounds and 1.8 blocks in the postseason. The third member of the Sky's Big Three is point guard Courtney Vandersloot, who missed exactly half of the regular season with injuries. Vandersloot's 6.0 assists per game would have led the league had she played enough games to qualify, and in the playoffs she's averaging 7.5 points, 6.3 dimes and 1.5 steals per game.

So no, the Sky is not the plucky bunch of underdogs their record would imply. Chicago is the most talented team in the Eastern Conference. Had Delle Donne, Fowles and Vandersloot been on the court together more and on the sideline less, the Sky would've cruised in the playoffs instead of barely making it. That's why, even with the losing record, Chicago coach Pokey Chatman made a good case for WNBA Coach of the Year; she held things together with duct tape and worn shoelaces until the cavalry came back to save the day.

The Sky's stars got healthy at the right time, and now – with the help of guard Epiphanny Prince (15.0 ppg in the regular season), forward Tamera Young (9.7 ppg in the postseason) and guard Allie Quigley (24 points in Wednesday's conference finals-clinching win over Indiana) – they've taken their rightful place in the WNBA Finals.
Here's my prediction. It goes all 5 and the Sky wins it all.
Of course, given that I'd picked the Sox to be in the playoffs this year you may want to hold off on mortgaging your home for that trip to Vegas.
The regular media, long ago frustrated by the annual flame outs, has been forced to play a lot of catch up on this team. I've actually watched broadcasters refer to the team's pronunciation guides to get the names right. Well, whatever it takes. This team has earned the right to join the hallowed pantheon inhabited by Jackie Robinson West and the Blackhawks.
CLICK HERE TO HAVE AN EPIPHANY
Follow us on Twitter!
Tweet
Visit us on Rebel Mouse


Email BigBadBill
Just another day in the Jay the Joke corporate boardroom.
From the N.Y. Daily News.
Monday is the day to celebrate the American worker and his sacrifices and economic and social achievements.

You do know that, right?

If you don't, you're not alone.

Few recall the bloodstained origins of this holiday as we fire up the grill, throw on the burgers and dogs and turn on the U.S. Open tennis or maybe the Yanks, Mets or another ballgame.

And, in a sign of the times, the Sunday morning network news shows didn't even offer their usual, token pre-Labor Day weekend spot for the head of the nation's labor movement.

"No," said AFL-CIO President Richard Trumka when I asked him. "No invitations this year."

President Grover Cleveland signed legislation to create Labor Day.

President Grover Cleveland signed legislation to create Labor Day.

I told the former mine worker-turned-lawyer that there seems to be a precious lack of understanding of the holiday's origins.

In fact, it stems from an awful confrontation in Chicago in 1894 that saw federal marshals and the Army kill 30 striking Pullman railroad strikers.

Soon after the Pullman walkout ended, Congress and President Grover Cleveland quickly passed and signed legislation for the holiday.

That history is rarely taught in schools and there are few full-time labor journalists anymore.

So with many millions jobless or involuntarily working part-time, we'll have a few pro forma parades, but not much else.

Americans will be grilling hot dogs on Labor Day rather than honoring the history of the holiday.

"Unfortunately, I think your analysis is spot on," said Trumka, who will take part in celebrations in his native Pennsylvania, including Pittsburgh, while President Obama does the same Monday with one in Milwaukee.

"From assembly lines to classrooms, across highways and steel mills, American workers strengthen the foundation of our country and demonstrate that our economy grows best from the middle out," Obama says in his formal holiday proclamation.

Yes, but sadly, "There is virtually no labor writing anymore and little, if any, reporting on the working class or working class communities," said William Serrin, a longtime NYU journalism professor and former New York Times labor writer.

"It could be a gold mine of important stories. It's a shame," he said Sunday.

Hey, anybody need another burger?
Follow us on Twitter!
Tweet
Visit us on Rebel Mouse


Email BigBadBill
These kids do not go quietly into the good night. They never get down, they never get upset. Put an obstacle in front of them and they'll overcome it. Granted, a lot of that is a testament to their coaching, but they are the ones who have to execute it and they do. Each and every day.
Think of their path. Chicago Little League Champions. To Illinois Little League Champions. To Great Lakes Little League Champions. To the Little League World Series. To the U.S. Little League Champions. And, today, they become the first team from Illinois to ever play for the championship of the whole world.
While major league baseball has a World Series, it isn't really. As the late Robin Williams noted, there are no French teams. Which is good. All the players would be in left and no one would be safe.
So, today, the U.S. Champions take on the champions of the rest of the world, South Korea. As noted yesterday on ESPN, due to travel restrictions and cost issues, the team took 30 hours to get from South Korea to here. They even stayed in Chicago briefly. Because many of their family members couldn't make the trip one mom took it upon herself to make sure the kids had home cooked food every day. She did the same for every adult who traveled with them.
The South Korean team is a lot like the Jackie Robinson West team. They rely on donations since none of them are from well to do families. They learn baseball in a broader context of how its rules can apply to a better life.
Oh, and one other thing, they tend to win. A lot.
Mary Mitchell at the Sun Times took some time to talk to the parents of the JRW team.
The Jackie Robinson West Little League team from the South Side showed the world how revenge is meted out:

Not with fists or the barrel of a gun, but by being the best.

On Saturday, the team — representing the Great Lakes Region — took the title of Little League U.S. champions by defeating Mountain Ridge from Las Vegas 7-5 in its biggest nail-biter of the tournament.

"After I gave up that home run, I was very scared," said Josh Houston, who owned the mound from the start of the game. "I thought we were going to lay down right there, but when I came in [and delivered a] clutch hit, I knew something big was going to happen."

It did.

The all-black Jackie Robinson West squad made history by becoming the first team from Illinois to win the U.S. championship game.

When it was over, the fans went wild. Fathers threw up high-fives. Mothers broke down and cried.

"Look at my baby!" screamed Nedra Jones, player Pierce Jones' mother.

JRW fans of all races and from states as far away as California rushed to the lower deck of Lamade Stadium and joined the celebration.

"They did it! They did it!'' cried Donita Butler, collapsing into her mother-in-law's arms.

The victory was redemptive for many of the families who put in long hours at no pay to coach the team.

"It's just phenomenal," said Carolyn Wilson, the mother of manager Darold Butler, and player DJ Butler's grandmother.

"Darold has played baseball all his life," she said. "This was something he had always looked forward to. He didn't get here, but his son did."

Linda Sneed, Houston's mother, is the lone single parent in the close-knit group. She bawled as her son and his teammates sprinted triumphantly off Lamade Field under the backdrop of the Bald Eagle Mountains.

In an earlier interview, I asked her how she managed to keep Josh involved in an endeavor as demanding as Little League when it comes to time.

"I got a lot of help from the other parents on the teams," she said. "They would be willing to pick him up and take him to practice if I couldn't get him there. Everybody has to help. Like they say, it takes a village and this is the village."

After the game, the champions were escorted to the Little League World Series dormitory complex, where fans lined up for autographs and parents waited patiently to wrap their arms around their sons.

Out of uniform and off the field, you can clearly see these are 11- and 12-year-old boys having fun.

Prentiss "P.J." Luster, the left fielder, had three words to describe how he felt after the big victory: "Excited, excited, excited."

For Chicagoans, the JRW players have been points of light in a sea of darkness.

They came into the LLWS as underdogs, and after a devastating loss to the Las Vegas team, had to fight their way back into contention.

But while these parents might have squirmed when the opponents popped off a good hit, they never lost faith that their kids could go all the way.

"All the hard work and all the dedication that we put in our kids have paid off," said a smiling Sanja Noble, mother of Lawrence Noble. "We are getting our rewards a little bit early."

The Jackie Robinson West story is about more than baseball. It's about black men who dream and pour their dreams into their sons. That 13 African-American boys from the South Side prevailed against the best Little League teams in America is evidence that dreams do come true.
People seem to be making a big deal out of how the adults have volunteered their time. There is an odd, underlying, theme that seems to imply that black families only help kids if they're paid. I note that since all of the teams have unpaid adults with them but it only gets mentioned for the JRW squad. Oh, and the "uncles" who help each team navigate Williamsport.
Then again, noting that when adults help their kids those kids end up on the good side of things isn't such a bad memo to get out. I just wish it was phrased differently.
CLICK HERE TO HAIL THE VICTORS
Follow us on Twitter!
Tweet
Visit us on Rebel Mouse


Email BigBadBill